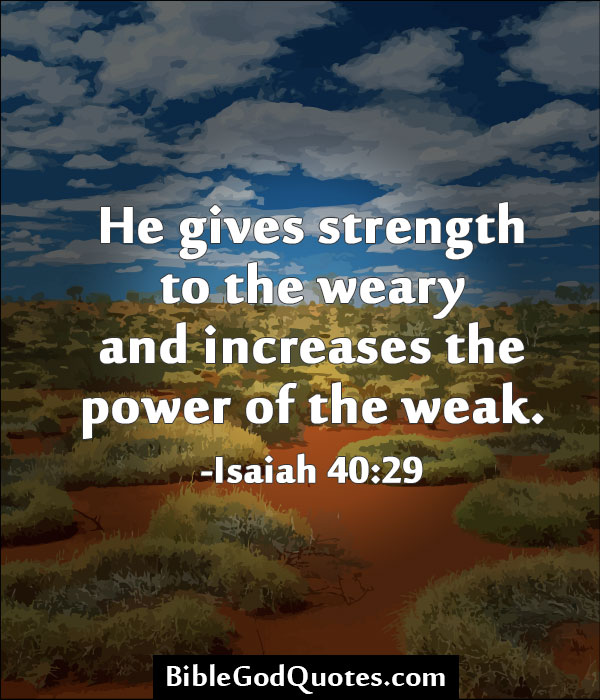 This post about strength in God is an updated post that originally occurred in February, 2008. In light of current events in our country and the world, I'm re-posting this in hope that the content might help you.
During such tumultuous times as we are in today in the United States and throughout the world – with the Coronavirus and the economy – we are looking for hope, peace, strength and resolve. Life can be a challenge, but in times where our nation is in an upheaval, the stressors can be especially difficult to handle.
Are you weak? Stressed? Battling depression? Do you need more energy to run this race of life that you're in? Is your strength depleted? God can help. Fortunately, our Creator gives us many scriptures that relate to how we can have strength in God. A verse about strength that is very familiar to many people is below.
"He (God) gives strength to the weary and increases the power of the weak…. But those who wait on the LORD shall renew their strength" Isaiah 40:28-31
That's one of this weeks scripture about strength. What a reassuring message! Life can make us weary and challenging… it can deplete us from the strength we need to get out of bed and do the things we are required to do. Yes, we can work out by lifting weights and taking our fitness walk. Those activities can provide us a level of fitness that enable our bodies to function physically, yet we also need additional inner strength to be able to function well. Since our mind, body and spirit are interconnected, how we feel spiritually or emotionally can effect or physical energy level. That's where God can help.
A meaningful and personal relationship with God can give us inner energy and strength that can sustain us. Engaging in spiritual exercises like prayer, reading the Bible and abiding in God's presence can help us tap into special power that only God can provide. When we are alone with God… when we "wait" on him, we are able to receive his strength. When we believe and trust what we read in scripture and in how God works, our hope is bolstered. This strong belief and hope, grounded in scripture, can give us strength. It's the same strength that the Psalmist writes about in Psalm 138:3 when he says "As soon as I pray, you answer me; you encourage me by giving me strength."
There is another key biblical principle to consider regarding strength. In his writings, Paul reminds us how we can be strong when we are weak. This might seem like an oxymoron but because it's biblical, it's true. When we are dependent upon God, when we surrender to him, when we rely on him and ask Jesus to live his life through us, we're actually living by his power and strength. You see, if we try to be strong in our own might, we don't give God the opportunity to use his strength as he lives through us.
"That is why, for Christ's sake, I delight in weaknesses, in insults, in hardships, in persecutions, in difficulties. For when I am weak, then I am strong." 2 Corinthians 12:10
So, I'll ask the questions again – Are you weak? Is your strength depleted? Do you need more energy and power to run your race?  Curl up on a couch or your recliner or drop to your knees and spend some one-on-one time with God. open up your Bible and read some of the scriptures about on the lists I've provided below. Get to know Him better and see if He doesn't bring you more inner strength.
Go have an awesome day!
Share the Gospel with those who are stressed and coping in unhealthy ways.  See the box to the right.
Helpful Resources Related to Strength in God
A list of Scriptures on Strength From God
Read another post – "God's Power Gives Strength"
Read another post – "Strength in God When Stressed"
See more scriptures on health, strength and stress