The condition of your spiritual heart will have a major influence on the condition of your body and your physical health. Proverbs 14:30 says "A heart at peace gives life to the body, but envy rots the bones."  Another Proverbs, 4:23, says "Above all else, guard your heart, for it is the wellspring of life."
If you are storing up the following conditions or emotions deep within you, then it's likely that your behaviors and your body will be negatively impacted. Insecurity, low self worth, resentment, anxiety, hurt, fear, guilt, jealousy, unforgiveness may well lead a person to conditions such as mental illness, addictions, substance abuse, apathy, depression, overeating, perfectionism, crime, emptiness, low self worth and despair. These conditions are likely to result in poor physical health.
The Bible tells us that Jesus came so that we might have life and have it to the full. (John 10:10) As we live in relationship with Jesus, and choose to follow the key principles of the Christian faith, we can experience true life. Some of God's key principles found in the Bible for living a life of wholeness are as follows: love God, surrender to God, forgiveness, loving and serving others, fellow-shipping with other believers, praising and worshiping God, renewing the mind, and living by the power of the Holy Spirit. As our lives are rooted in Jesus, and these principles are practiced, we are likely to experience a life that Jesus died for us to have. This full life is represented by various fruits such as hope, joy, self-control, kindness, gentleness, thankfulness, peace and patience. These are many of the outcomes that we are able to experience when our life is rooted in Christ. And, the medical research shows that these virtues, or character traits, are health-promoting.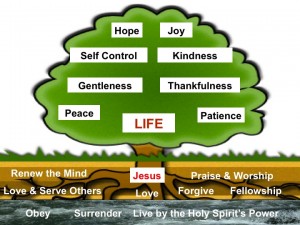 So, staying close to Jesus and being rooted in him will enable us to experience a full life. It also favors improved health.
"Blessed are those who trust in the Lord and have made the Lord their hope and confidence. They are like trees planted along a riverbank, with roots that reach deep into the water. Such trees are not bothered by the heat were worried by long months of drought. Their leaves stay green, and they never stop producing fruit." Jeremiah 17:5–8
"But the Holy Spirit produces this kind of fruit in our lives: love, joy, peace, patience, kindness, goodness, faithfulness, gentleness and self-control. There is no law against these things!" Galatians 5:22–23
"When I think of all this, I fall to my knees and prayed to the father, the creator of everything in heaven and on earth. I pray that from his glorious, unlimited resources he will empower you with inner strength through his Spirit. Then Christ will make his home in your hearts as you trust in him. Your roots will grow down into God's love and keep you strong. And may you have the power to understand, as all God's people should, how wide, how long, how high, and how deep his love this. May you experience the love of Christ, though it is too great to fully understand. Then me you will be made complete with all the fullness of life and power that comes from God." Ephesians 3:14–19
Questions to Reflect On:
Are you rooted in the love of Jesus?
Are important biblical principles part of your lifestyle?
Related Resources:
Spiritual Exercises for a Healthier Life