The 2010 Winter Olympics are over. Over the course of 17 days of this year's competition, Team USA earned 37 medals — the most ever by one country in one Games, besting Germany's mark of 36 set at Salt Lake. The feat was even more impressive considering it was the first time the U.S. earned the most medals in a Winter Olympics since 1932 at Lake Placid. Germany won 30 medals and Canada, the host country, won 26 total medals.
Medals Made of Recycled Material
And here's a piece of trivia for you. This year's 549 medals contained metal from recycled TVs, computers, and keyboards that might have otherwise ended up as e-waste.  (More on this here.)  I suspect that over a period of enough time, these medals will likely become tarnished.
Physical Conditioning and Discipline
To be good enough to win an Olympic medal, whether it be bronze, silver or gold, takes a tremendous amount of talent, skill and, for most of the events, a high degree of physical conditioning.  Preparing for an Olympic competition requires  discipline and perseverance. In the end the award that athletes receive is a medal, along with the distinction of being recognized as the world's best athlete in their respective sport.
"All athletes are disciplined in their training. They do it to win a prize that will fade away, but we do it for an eternal prize." 1 Corinthians 9:25
Running the Race of Life
Our life as a Christian is like an Olympic athlete training to win a medal. Whereas the prize for the athlete is a medal, our prizes are at least two-fold.
One prize is the abundant life that we are able to live because we are walking day to day with Jesus and by the power of the Holy Spirit.  The more disciplined we are at incorporating spiritual exercises into our lives on a daily basis, the more rewarding and fulfilling our life can be.  The more we live according to the guidebook that God gives us, the Bible, the sweeter our life can be. God has this "prize" for us on this side of heaven.
"The thief comes only to steal and kill and destroy; I came that theymay have life, and have it abundantly." John 10:10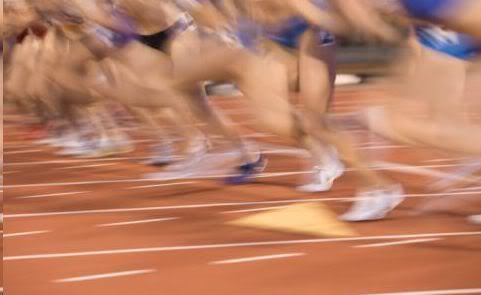 Paul encourages the Corinthians to run the race of life with endurance and that the crown we will receive will last forever.  He encourages us to press on, to persevere, to endure.  As athletes require discipline in physical training and in what they eat to be competitive enough to win an Olympic medal, we must be disciplined in various forms of spiritual exercises to win the crown of a full and abundant life.  ( Corinthians 9:24-25 )
The more disciplined and consistent we are in our spiritual exercises, the more abundance we will tend to receive this side of heaven.  This is one reason Jesus died on the cross for you and for me.
The other "prize" that God makes available for us is the crown of eternal life that we'll spend with Jesus after we leave this earth.  It becomes available to us when we accept Jesus in our heart as our Savior.  Isaiah 35:10 tells us that everlasting joy will crown the heads of those who walk with Jesus in a personal way. Unlike the tarnish that will probably occur with the metal of the Olympic medals, our crown of everlasting life and our joy will continue forever.
I encourage you to be disciplined in applying the principles of the Bible in such a way that you're experiencing a full and rewarding life – the kind God desires for you.  And I pray that you are confident that you'll live eternally in the presence of God because of a choice you've made to invite Jesus into your heart.
A Few Questions to Consider
What disciplines in your life contribute most to your level of spiritual fitness?
Are you experiencing an abundant life in the way Jesus has made it available for you?
What spiritual exercises could you incorporate into your life to give you a more full life?
Where will you spend eternity after you die?
Additional Resources for Running the Race of Life
Article from this Ministry – An Introduction to Spiritual Exercises… for a Healthier Life
Website Page from this Ministry – Spiritual Exercises and a Spiritual Fitness Assessment
Website – How to be assured of an eternal life with God.
Website Page from this Ministry – Accept Jesus Into Your Heart