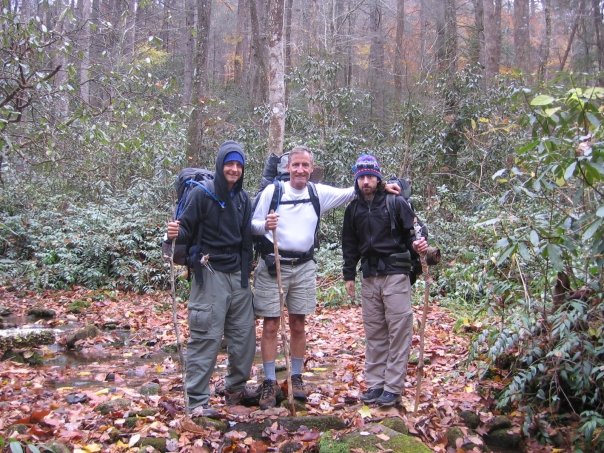 Spending two days in the hills of Smoky Mountain National Park with your two boys is great for your spiritual, emotional and physical health.  It is an especially sweet thing when it's a day before your birthday!
Danny, my younger son, drove up from Savannah, Ga. to join Drew, my oldest, and me on this past Thursday evening.  On Friday, we drove 4 hours to the park and pulled my car up to a large campsite just inside the park.  Knowing it was going to rain, we used my larger tent and enjoyed a short overnight stay.
The next day, Saturday, we broke camp and loaded our backpacks up for a 9 mile hike down Fork Ridge Trail into a primitive site deep into bear country.  It was all downhill…. and a little over a half mile drop in elevation.  I imagine my pack was about 30 pounds.
When we were about 1/2 mile from our predetermined campsite, we spotted a black bear… about 350 pounds… in the stream bed we were walking along.  It was about 30 yards away.  I'm disappointed that I didn't have enough time to snap a photo of the bear.  As we watched him amble into the woods and head up the hill, we scooted down the trail.
After we pulled our unused food and personal gear up into the trees to protect it from bears, we sat around the fire and talked about spiritual things and our faith.  That was a particularly special time.
Hiking out on Sunday morning took 5 1/2 hours… almost entirely uphill.   Needless to say, our legs were burning when we finished and walked out to the car at the top of the ridge.
Being in this beautiful park and enjoying the spectacular natural setting that is God's creation was an awesome experience.  The air was crisp, the smells of the forest distinct, and the companionship of my two sons was priceless.  This all made my 58th birthday a special memory!