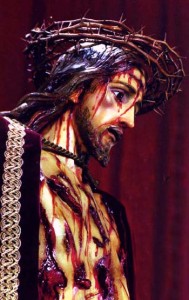 You may be familiar with the verse in the Bible that tells us that our bodies are the temple of the Holy Spirit.
"Don't you realize that your body is the temple of the Holy Spirit, who lives in you and was given to you by God?…." 1 Corinthians 6:19
This verse is a reminder that God's Spirit, the Holy Spirit, dwells in us. This verse is a reason for believers of Jesus to take care of our bodies, as it should be.
But, how many of us are mindful of the next verse that Paul writes…
"You do not belong to yourself, for God bought you with a high price. So you must honor God with your body." 1 Corinthians 6:20
Here, Paul reminds us that it's only because Jesus paid the ultimate price – his life was given for us on the cross at Calvary – that we are entitled to be in dwelt with the Holy Spirit.
In Isaiah we are reminded of the cruel death that Jesus experienced…
"But he was pierced for our rebellion, crushed for our sins. He was beaten so we could be whole. He was whipped so we could be healed…. He was oppressed and treated harshly, yet he never said a word. He was led like a lamb to the slaughter." Isaiah 53:5, 7
You may want to also read a physician's viewpoint of the crucifixion of Jesus.
There are times that my motivation to care for my body wains.  When this happens, I try to reflect on the 'high price' that Jesus paid for me with his life and how I have benefited. I try to imagine what it was like for Jesus to have been beaten and nailed to the cross. To picture Jesus on the cross. To be reminded how, out of obedience to God, he was separated from his Father for a period of time.
Are you a follower of Jesus? If so, if it were not for the horrific crucifixion that Jesus experienced, you would not have eternal life.  You would not be experiencing the mercy, love and grace of God in your life. You would not have the privilege of being in dwelt with the Holy Spirit. You would not be experiencing the full life the Jesus desires for you. (John 10:10)
So, let me ask you. Has your motivation to care for your body wained? Do you need extra impetus to make a lifestyle or health-related behavior change?
If so, think about Jesus on the cross. Connect the dots between his scourging and the indwelling Spirit of God within you. Appreciate that he loves you so much that he gave his life for you. Rest with these truths.
Allow them to inspire and motivate you to care for His temple, your body.
Related Resources
Blog Posts About the Holy Spirit
Blog Posts About Behavior Change
Other Weekly Health Devotionals