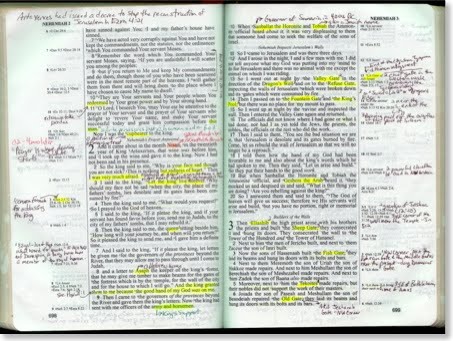 Earlier this year, the folks at Amazon released information about the most highlighted passages from their best selling Kindle books. This list of what people highlight or annotate gives us insight about what people think is important and of value.
According to the above citation, the verse in the Bible that was most frequently highlighted was:
"Do not be anxious about anything, but in every situation, by prayer and petition, with thanksgiving, present your requests to God. And the peace of God, which transcends all understanding, will guard your hearts and your minds in Christ Jesus." Philippians 4:6-7 (NIV)
These two verses, written by the Apostle Paul, speak to the peace that a person can experience deep in their heart if they are not anxious.
The fact that these two verses are heavily highlighted in Kindles suggests that controlling anxiety and experiencing peace are very important for those who read the Bible. Perhaps this is an important issue in your life and you can also relate to the value of not being anxious.
When we are anxious and worried we set ourselves up for health problems. Being at peace is good for our health. This is why, in our workshop and programs, we address 42 Biblical Principles for a Full Life. Three of the principles address the topics of worry and anxiety head on. I want to share with you these three principles and scriptures that they are based on.
Do Not Worry or Be Anxious  – Proverbs 12:25, Matthew 6:25-34, 1 Peter 5:7, Philippians 4:6-7
Give Your Worries to God  – Matthew 11:28-30, 1 Pet 5:7, Psalm 55:22
Trust God – Psalm 40:4; 84:12, Proverbs 3:5, Isaiah 26:3-4, Jeremiah 17:5-8, John 14:1, Romans 8:28; 15:13, 1 John 5:4, Hebrews 11:6, James 1:6-7
I encourage you to incorporate the truths and principles found in the above scriptures. And, perhaps you'll find additional helpful insight in the blog posts referenced below.
Have a great day!
P.S. – Just curious, are these two scriptures highlighted or underlined in your Bible? If so, comment below!

Related Resources
3 Blog Posts About How to Handle Worry
Join me for a live teleseminar – Dec 2nd and 9th are the next dates –  Understanding the Faith and Health Link