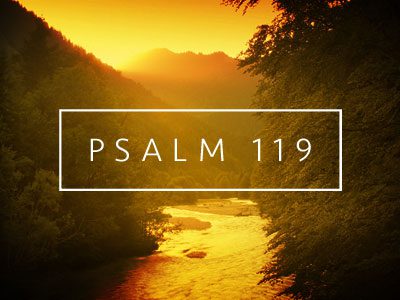 Psalm 119 is full of rich truths about the value of Scripture and the content of the Bible, God's Word to us. It is the longest psalm and chapter of the Bible.
In the 176 verses of Psalm 119, different words used for the Word are used at least 156 times. We find words such as precepts, law, word, commands, principles, decrees, commandments, rules, and statutes. The author of Psalm 119 clearly had in mind telling the readers the importance of God's ways and the scripture we find in the Bible.
Psalm 119:105 is an often cited verse – "Your word is a lamp to my feet and a light for my path."
This morning in my alone time with God I re-read this Psalm.  I want to share with you some of the key words that jumped out to me: heart, ways, meditate, truth, path, understanding, salvation, freedom, hope, life, comfort, obey, promises, knowledge, wisdom, light, joy, well-being, discernment, eternal, and peace.
In one of the notes in my NIV Study Bible, the following comment is made:
The Bible is like medicine.  It goes to work only when we apply it to the affected areas.
It is so true.  When we apply God's principles, found in the Bible, to our life then we benefit. Our life is more in alignment to God's will for us. It is more full.
The Word of God is a prescription for whole person health. I'll highlight a few verses related to health and well-being:
"It was good for me to be afflicted so that I might learn your decrees." Psalm 119:71
"How sweet are your words to my taste, sweeter than honey to my mouth!" Psalm 119:103
"Great peace have they who love your law, and nothing can make them stumble." Psalm 119:165
One page of my website is dedicated to listings of scriptures related to health. A few of the most popular scripture listings are as follows: Scriptures for Weight Loss and Weight Management, Healing Scriptures, Scriptures on Strength from God, Scriptures to Help with Anxiety, Worry and Stress.
If you've never done so, I encourage you to sit down and read Psalm 119 in one sitting. Ask the Holy Spirit to reveal to you the significance of God's ways and truths as you read it. My pray for you is that this experience will reinforce the value of scripture… and of reading it daily, its like medicine for your soul.
Have a terrific day!
Related Resources
Blog Posts About the Bible and Health