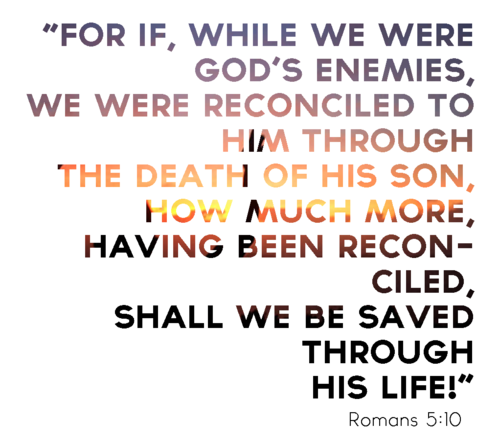 "For if, when we were God's enemies, we were reconciled to him through the death of his Son, how much more, having been reconciled, shall we be saved through his life!" Romans 5:10
God sent his Son, Jesus, to die so that our sins could be forgiven and we could life life in heaven for all eternity. Because of Jesus' death, we can also have a direct relationship with God, the Father. This reconciliation and relationship is only possible by the blood that Jesus shed on the Cross for you and for me.
Entering into a relationship with God and receiving eternal life is a one time occurrence – a point in time. Being rescued from sin and living an abundant life – John 10:10 – is an ongoing process.
In the verse above, saved is from the Greek word sozo. Paul writes 'how much more will we be saved.' This implies a measure of 'salvation', degrees of 'salvation'. We know by scripture that once we accept Jesus into our heart that we are assured of eternal life. John 3:16 That is one aspect of salvation. The word sozo also means to heal, make well, restore to health.
When we accept Jesus into our heart, his Spirit, the Holy Spirit, begins to live in us. It's by the Holy Spirit that we change – become transformed more into the image of Christ.  It's also by the Spirit – Jesus living in us – that we will become 'much more' healed, well, whole. It's by the power of the Holy Spirit in our lives that we can make behavior changes that are healthy.  Its by the power of Jesus living through us that our minds can be transformed. It's by the power of Jesus that our wounded hearts can become healed of past scars.  It's by the power of Jesus – through his life – that we can become 'much more saved.'
God desires that you not only experience an eternal life in heaven. Yes, he wants you to first be reconciled to himself by accepting Jesus into your heart. But after that, he desires that you be radically transformed and live the abundant life that Jesus died for you to have.
I encourage you to surrender more deeply to the Holy Spirit's work in your life so that you will be 'much more saved.'
Because, when you're living a transformed and abundant life, God is more glorified… and that's the purpose of the Christian life.