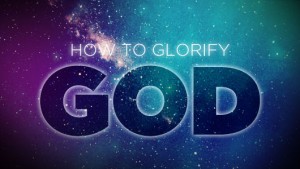 You and I were created to be like God and his Son, Jesus.
"Then God said, 'Let us make human beings in our image and likeness.'" Genesis 1:26
Since you were created to be like Jesus, you were also created to glorify God by how you live your life…. the 'works' in your life.
"For we are God's workmanship, created in Christ Jesus to do good works, which God prepared in advance for us to do." Paul in Ephesians 2:10
These 'works' do not give you your salvation, they are meant to glorify God.  It's your faith in Jesus that affords you salvation.
"For it is by grace you have been saved, through faith—and this is not from yourselves, it is the gift of God—not by works, so that no one can boast." Paul in Ephesians 2:8-9
Just before Jesus returned to be with his Father in heaven, he prayed this to God:
"I have brought you glory on earth by completing the work you gave me to do." Jesus in John 17:4
Glorifying God With Your Life – 3 Questions For You to Consider:
Are you glorifying God with your life?
How are you using the gifts and talents that God has given you to serve others?
Does your health status help you do this or does it hinder you?
Faith and Health Initiative:
The PathWay 2 Wholeness Bible Study explores the connection between the Christian Faith, your life purpose, and your health. Read how this study can be brought to your church.