Have you been wondering if you should participate in our 11-week Faith and Health Ambassador Course? Here are five benefits to participating in the course: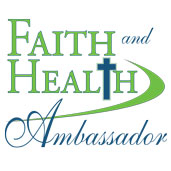 1. You'll grow closer to God. This course is so much more than learning about the link between the Christian faith and your health. As we study 40 biblical principles for living a full life, we look at how they support our three primary relationships – a right relationship with God, a healthy relationship with our self, and loving relationships with others. But it all starts with our relationship with God.
2. You'll take better care of your body. The more deeply you love God and value that relationship, the more motivated you will be to care for your body, God's temple. And, you'll come to value more deeply how important your health is to enabling you to live out your life purpose.
3. You'll experience more fruit in your life. Changes that you make in your life will bring about more fruit. Your character will become more Christ-like. You'll be praising God and thanking Him more. You'll have more love, joy, peace, self control and other fruit mentioned in Galatians 5:22-23.
4. You'll be better equipped to minister to others.  This is one type of fruit that will result from your participation. You'll receive tools that will enable you to helping others grow more deeply in their faith.  You'll also be able to help people understand the link between poorly managed stress and health issues. Using our Spiritual Fitness Assessment tool will enable you to share related spiritual exercises that can be applied to the lives of others. You'll also become fully equipped to lead our PathWay 2 Wholeness Bible Study.
5. God will be more glorified through your life. This is the overarching goal of the Faith and Health Ambassador Course. We believe that God will be better known and more glorified because of the transformed lives of the participants of the course and the PathWay 2 Wholeness Bible Study.
If you value these five points above, I hope that you'll join us for an upcoming course. You won't be disappointed.
The next class begins April 16, 2013 and registration closes April 1st.