Life and stress – they go hand in hand. We will experience lots and lots of stress in our life. There is no getting around it. I believe that the degree to which we effectively manage and cope with the stress in our lives will determine the degree to which we are healthy. If we turn to unhealthy behaviors to cope with the stress, our physical and emotional health will suffer. Many people turn to food as a way to cope with stress. Others turn to the use of drugs. Some turn to alcohol. Still others light up a cigarette. Some burn the midnight oil surfing the internet and pay for it the next day because they have had inadequate sleep. Faith can be the anchor that keeps a person steady in times of stress.  If followed, biblical principles can be the cornerstone of a person's life and enable them to live a life less impacted by what otherwise would be stressful circumstances. Read more about
Spiritual Exercises
.
Life, Stress and Health Model
We view potential stressors of life and react to events in life through "lenses." The diagram below demonstrates how aspects of one's life can impact on their beliefs and attitudes, which can have a corresponding impact on their choices and resulting lifestyle habits.  Our repeated behaviors will become our habits and it's one's habits that determine how they respond to potential stressors. This, in turn will hugely impact on one's health and quality of life.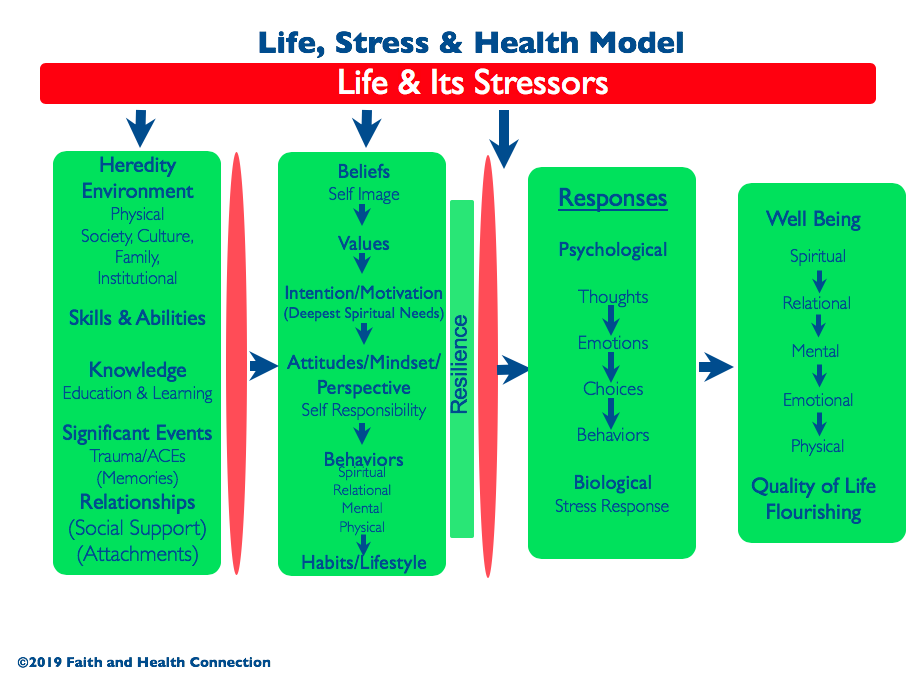 Stress and Health – A Christian Faith Perspective
Our faith can be an invaluable resource to help us manage the stressors of life. Most believers, however, do not fully apply key principles of the Christian faith to their life as it regards to stress management. The model above does not include several key components, or factors, that are important from a Christian faith perspective. Learning who God is, and the knowledge we gain about God's truths, through reading the Bible, will influence our beliefs and attitudes, which will shape our behavior. Read this blog post –
Stress: How the Christian Faith Can Help Manage It
– that addresses 6 principles of the Christian faith that help us manage our stress. The faith dimension of managing the stressors of life, and 40 related biblical principles, are addressed in detail in the
Faith and Health Ambassador Course,
our
PathWay 2 Wholeness
program and our workshop,
Understanding the Faith and Health Link
.
Stress and Poor Health in Your Organization or Congregation
Read about how our
workshops and retreats
educate and empower people to make lifestyle changes to better cope with chronic stress. These workshops, based on biblical principles, are designed to foster whole person health.

Stress and Faith
More About Stress and It's Impact on Health
___________________
"Cast your cares on the LORD and he will sustain you; he will never let the righteous fall." Psalm 55:22