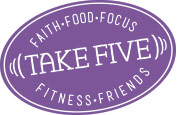 I'm excited to be speaking this Saturday, March 1st, at this year's Grace Temple Ministries Women's Retreat in Hattiesburg, MS.
The title of the retreat is "Take 5." Faith, Food, Focus, Friends and Fitness are the themes. My workshop will be on the Focus piece as I'll be addressing the role that renewing the mind and restoring the heart play in one's path towards wholeness.
I'm looking forward to meeting the retreat planner, Beverly Gory, sharing God's principles regarding faith and health, and spending some time with the Senior Pastor, Dwayne Higgason.
Post Retreat Note – God blessed the women who attended the retreat in a mighty way. Chains were broken, minds were renewed, and hearts were restored. Unquestionably, many women became more whole to be used by God in the Hattiesburg community.
Here is a note I received from the retreat coordinator a day after the event –
"Thanks Dale for coming to speak to us. The ladies could not stop talking about how the weekend had blessed them so. Your passion for wholeness is contagious. Lives were changed! "
See the topics that I often address during church retreats and workshops about wellness and whole person health.